Welcome to the Falconry Heritage Trust Website
The Falconry Heritage Trust:
Free access to all through the Internet
Working with the world's falconry clubs through the International Association for Falconry
Supporting regional archives of falconry artefacts
Ensuring that irreplaceable items and records are not lost
Linking falconers in 83 countries.
Intangible Cultural Heritage
Did You Know?
In the book by Sergei Turov "The Life of Birds" (Moscow, Moscow Naturalists' Society, 1950) there are 3 b&w photos on falconry in Kyrgyzstan: Falconer Kyrghyz with Golden Eagle on p.138; Hooded Golden Eagle on p.139; Kyrghyz falconer takes hunting Golden Eagle on his hand on p.140. All 3 photos were taken by S.S.Turov.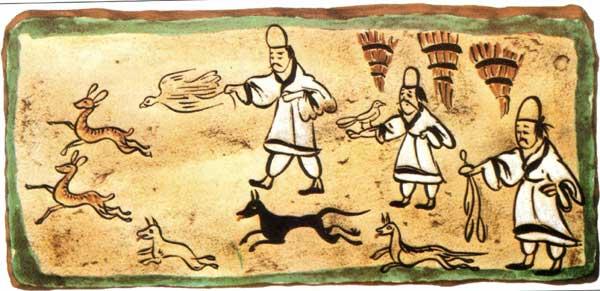 Panel from Indiana Falconers' Association
Aims:
An information hub for world falconry, conservation and breeding
Ensuring a good image for world falconry
Promoting access to physical archives
Linking all physical archives and promoting access
Providing source material for the media.
How does it work?
Artefacts can be physically gifted to the Trust
Alternatively they may remain with the owners or their heirs, but are recorded by the Trust, copied or photographed for posterity
Artefacts may be gifted to the Trust on death of the owner
The website is the sole method of accessing the archive
Physical access may be available at the discretion of the trustees, and the owner
Items are added regionally through a committee of editors
Access to the Falconry Heritage Trust website is free but downloading of archive material may attract a usage charge or subscription.
What is on the Trust website?
Historical material - manuscripts, texts, art
Images of physical items - hoods, bells, gloves etc
Photo archive
Film archive including video-interviews with the most famous, experienced and old falconers
Law archive
Educational material for modern falconry
The Falconry Heritage Trust provides links to items in independent collections such as:
National and regional falconry clubs
Other national collections
Academics
Private collectors.
Grants and Scholarships
The Falconry Heritage Trust is inviting applications for grants and scholarships. Please download and complete the Application Form, and email to fht@falcons.co.uk.
More details are in News section.
Company registration number: 05401103; Registered Charity Number 1125033
FAQs