AMEDEO ARPA (Resana (TV) 08/10/1931 - San Fermo della Battaglia (CO) 26/02/2015)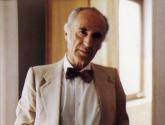 Date: 13 May 2016
AMEDEO ARPA (Resana (TV) 08/10/1931 - San Fermo della Battaglia (CO) 26/02/2015)
Mr. Amedeo Arpa, the founder of the Italian Federation of Falconers, has suddenly left us without giving space at comments, as he was like.
A man and an artist gifted of a great culture and an innate charisma who has been known since 1992, the year of foundation of the Italian Federation of Falconers.
He has cultivated and has passed on the art of falconry, considering it only like the art of hunting with falcons.
On this theme he was always inflexible, keeping distances from all who used falconry for other purposes different from the venatorial one.
If nowadays, in our country, hunting with falcons is allowed It is thanks to the efforts of Mr. Amedeo Arpa and Dr. Lorenzo Uberti, In fact both have presented at the Italian Parliament, a plentiful dossier in which they have underlined the cultural importance of the ancient symbiosis between Man and Falcon.
Thanks at their work, now we have this hunting art in our legislation.
Our Federation will continue in the future, reaching inspiration from their teaching, to preserve and promote hunting keeping alive values like consistency and ethics which have always distinguished us.
A rightful regard and many thanks to Amedeo who now is free from the too much disputes between men, and now we want imagine him as a man who will admire his beloved falcons in unlimited flies.
For the Italian Federation of Falconers the General President
Mr. Maurizio Carcano
Publicly announced by Andrea Villa at IAF AGM in Argentina in August 2015
Click link to to download the file: AMEDEO ARPA (Resana (TV) 08/10/1931 - San Fermo della Battaglia (CO) 26/02/2015) (1018.57 KB)