Falconer (modern) by Peter Hicks Ltd.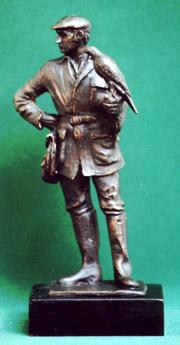 Date Created: 14 September 2016
Falconer (Modern) Ref: 299

Approximate height (including the base): 280 mm.

Alternative selection of MDF, Mahogany and other bases are available. Individual bases made to order.

If an engraved plate is required, please either: enter in details in 'check out' area or kindly reply to the email 'Order Confirmation' with the text and artwork required.


Total Price:

£114.65

(Excluding VAT at 20%)
Author: Peter Hicks
Source: the Internet
Owner: Peter Hicks Ltd.
Location: Wiltshire, UK
Link to Website: http://www.peterhicks.com/acatalog/Falconer_-_Modern.html#a299